By Meno on July 7, 2013 in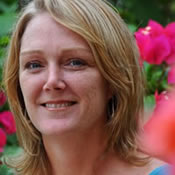 Born and raised in Evansville, Indiana, Sherry studied Interior Design, Graphics and Marketing at the University of Kentucky and competed in Championship level equestrian events. Upon graduation, she moved to Atlanta, Georgia to begin her own mail order company, Scintilla, representing designers and craftsmen of artisan lighting, home décor and jewelry. Looking for a change of lifestyle, Sherry moved to Playa del Carmen in 2001 where she co-owns a web based travel planning company and works as a Real Estate Advisor in the Riviera Maya.
Sherry has always been passionate about animals and dedicates herself to supporting local animal efforts. When she arrived in Playa del Carmen in 2001, the street animal crisis was heartbreaking. Luckily, in 2001 she read a small article in a National Geographic magazine about YARF. Yucatan Animal Rescue Foundation. She got involved right away. The next year YARF dismantled and ViDAS was born. She soon became the Playa del Carmen organizer for the annual ViDAS clinic, and has never looked back. She sits as an local advisor on ViDAS board of Directors. When Coco's Cat Rescue A.C. was born in March of 2009, (Now Coco's Animal Welfare, A.C., NGO) she became involved immediately. Sherry's commitment, goals and connection to the local community where Coco's and ViDAS does their work, makes her a helpful addition to both organizations boards.